I could get the "COX" exhaust manifold by Yahoo auction ! :D The price was very cheap ! As you know (??), I don't have money. So it's lucky for me ! :D
Now,,,,,,
Regarding this exhaust manifold, it is all stainless steel, I think. Because the weight is light and there is no rust except flange.
The exhaust manifold will be so hot during drive. So I wrapped the exhaust manifold in the bandage. ( Not for medical treatments ! : ) )
The photo before work.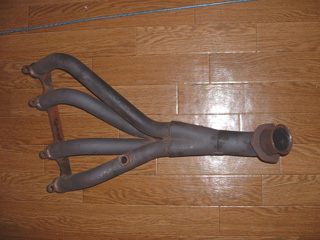 Regarding the bandage, I used "Cool It ( Thermo-Tec ) exhaust insulating wrap". The stainless band is also same brand. This "exhaust insulating wrap" withstands continuous heat.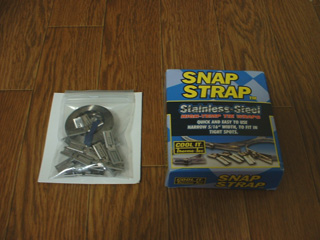 I put on the rubber gloves during work. ( I listened that this bandage includes glass powder or some materials. Is it right ?? )
Also, when I wrapped the exhaust manifold in the bandage, I wetted it. It can be tightened up if the bandage is wet. There is no photo during work because I was too engrossed in my work !!
Anyway, it was heavy physical work ! I got tired....:-(
Please see below ! I finished !! :D
Regarding the installation, I asked my shop, Ventiler.
And...
Please see the next page ! :D