My "handle name" is Morimori !
My home town is Kanagawa ( Tokyo area ?? ).
I moved to Osaka when I was University student and lived about 10 years. And now, I live in Tokyo.
When I was University Student, I bought Volkswagen Mk2 Golf. (It was in 1998, maybe..)
My Mk2 Golf is Japanese limited edition. It is called "Urban Elite". And it has leather upholstery as standard.
Regarding the maintenance and modification, I'm not familiar. But I love this Mk2 Golf !! :)
Now, this web site is introduction of my Volkswagen Mk2 Golf including the maintenance, tuning, pictures and more.
Please sign in my
guestbook
at first and visit this website regularly. Thank you so much. ;-)
This is me !! :D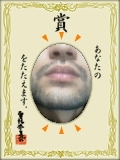 My Volkswagen Mk2 Golf