When I drove very hard, one flap ( rear ) came off ! And I could not find out it !! :-(
So I got new mud flaps (rear only ).
I wanted to install it firmly. So I used adhesives. (Normally, it should be installed by the attached clips. )
The following is one set of rear mud flaps.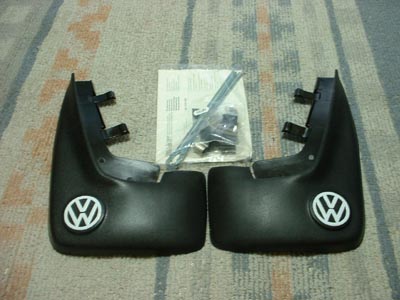 I made a contact with Volkswagen Japan through Japanese Dealer, Yanase. ( Yanase is no longer VW's dealer now. But he still sells VW parts. ) And got it.
Part Number : 191 075 102
Price : 4,200 Japanese Yen.
By the way, this mud flap is for "Big Bumper" model. That is to say, "010 075 102" cannot be installed into "Small Bumper" model. But I do not know the details.....
For your reference, I explain the correct installation. :D
The following set is for right side mud flap. I point out red circles. You can fix those clips ( with plastic parts ) to the flaps. (You should use attached tool.)
Regarding the small clip ( Yellow circle ), you can fix easily.:D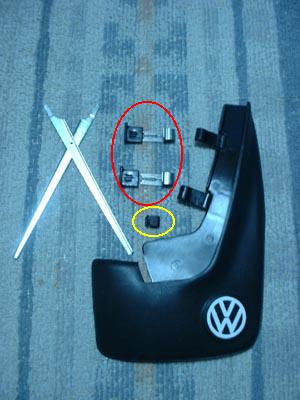 As you can see, those clips should be installed into the following positions.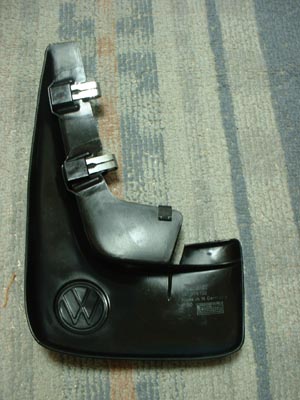 Anyway, if you see the actual kit, it is easy to install. But there is possibility that you should remove the wheels during installation.
Regarding the attached clips, you use the attached plastic parts, as I explained. Those plastic parts will decay and break down, I think. So there is possibility that one flap came off. I do not know actual cause of it. Anyway, I used adhesives.
After that, those parts do not come off ! :D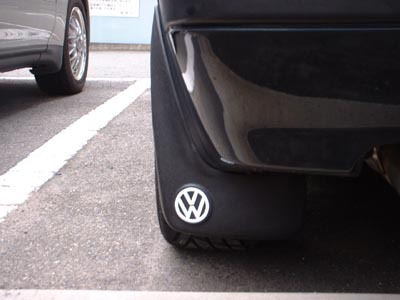 If you want to see front mud flap, please click here ! :D
Japanese dealer, Yanase said, "there is possibility that we cannot provide such accessories in future...:-("
But this mud flap is made by "VOTEX". So can we buy it from German shops in future also ??