Seiji's 40th Anniversary Version (Tokyo, Japan)
The Type of Car : Volkswagen Mk2 Golf ( 1992 40th Anniversary Version LHD AT )
This is Seiji's Mk2. And so clean !! :)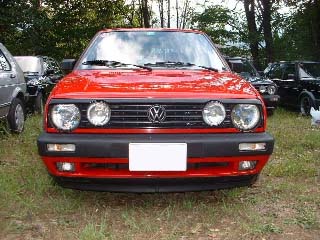 What is "40th Anniversary Version" ? He advised...:)
"40th Anniversary Version" is based on CLI. And installed Big Bumper and Steering
Wheel for GLI into this mk2. Also, 15 inch Alu Wheels are installed as standard.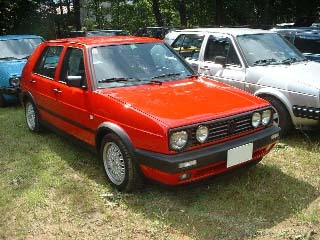 Exterior 




Door Mouldings, 4 lights Grille, Lip Front, Fender Arches, Side Skirts, Roof Spoiler
and License Lamp Cover (are all for mk2 GTI), Fog Lights (Combined Golf mk3 Fog Lights)
BBS 15 inch Wheels (Stock), Clear Indicators






Interior



Front Seats (For GTI 16V), Lining of Trank Room (GTI stock), Keyless Entry System
Personal GTI Steering Wheel, Sound Deadning






Engine and so on. 




Nagai Silicone Spark Plug Wires, Ground Wire Kit, K&N Air Cleaner, Platinum Plugs
GIO3 Tourmaline Kit, GTI 16V stock muffler
GTI 16V stock shocks and springs, 8V GTI stock brake disks






Maintenance


New AT Assembly, Sensors and so on !!