If the air of the auto air conditioner does not become cool even if the heater system of your golf mk2 operates correctly, please check the "flap". Also, please check the "flap", if the auto air conditioner sprinkles sponge (foam).
What is the "flap" ? There are 2 flaps. One "flap" changes indoor circulation to open air introduction. The other "flap" changes the ventilation direction. Those flaps are made from the aluminum steel. There are some holes on the flap. And it is covered with a sponge sheet.
Mostly, the sponge is ragged. And it is not the original form any longer.
Anyway, I removed the old sponge and stopped up holes using the aluminum steel tape.
For the reference, I explain it.
At first, removed the center console.
Regarding the removal, please click the following photo !

Removed the cases in the both sides of the center console.
After that, you can see the shell. (It is like a trapezoid.)
And remove 2 screws. (Yellow circles)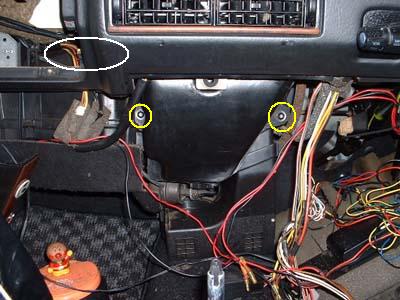 This shell is connected to two pipes. It is better that you remove the shell completely. But it is the troublesome work that you install this shell again. So I removed the left pipe only. (White circle) And I lifted the shell and did work from the crevice.
The "flaps" are in the back side of a box !
Remove the old sponge completely and clean up the "flaps". After that, stop up holes.
(I used the aluminum steel tape.)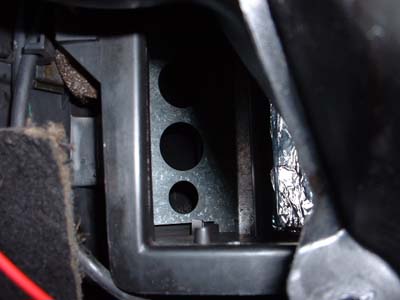 After that, reinstall the shell. The crevice may be made to the surroundings of a box. So take up a crevice also. (Yellow curved line)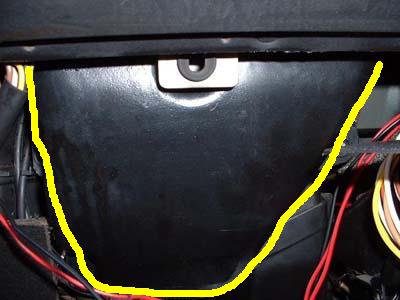 Finish ! I think you will get a comfortable life !!