Regarding some Mk2 Golf models, there is "Bonnet Insulator" as standard. But Morimori's Golf is based on GLI is not installed it. So I bought
"Bonnet Insulator"
from Germany. (Sorry, I cannot remember. There is possibility that it was from USA. ) Recently, it is very difficult for us to get the "Bonnet Insulator for Mk2 Golf" in Japan. So Hirochan made "Insulator" by himself.
Regarding this insulator, it is not for Mk2 Golf but the universal insulator. And it includes glass wool. It is made by NEEZ. NEEZ is the car wheel manufaturer. Please see below. It is like an original product ! :D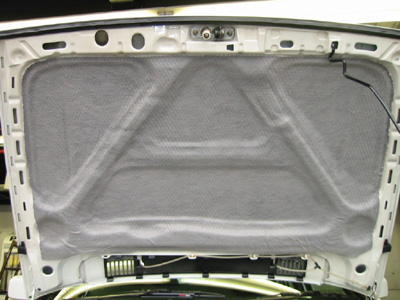 This insulator includes the double-sided tape. So the installation is very easy. But this insulator includes glass fiber. So you should put on the rubber gloves if you work.
Price is at 8,000 Japanese yen. (June, 2003 )
This insulator protect the heat and noise from engine room.
If you are interested, please try it ! :D